EDIT; Well, they've put it in the July issue which is on the shelve's now, even in Australia.  
We were contacted by Popular Science magazine (U.S. Version) several weeks ago about using the following image for a centre spread in the June issue so it was uploaded the next day and is now out. Haven't been able to track down one in Aus. yet but have heard it's around. It's a photo of the  http://www.greenbird.co.uk/ taken at Lake Lefroy near Kalgoorlie in August last year during the land speed record attempt which after the lake was flooded was moved to Nevada.   
This is a 1 min. exposure with a handheld flash being fired once in 3 different locations around the Greenbird.  Taken at about 5am and it was freezing -1 I think.    There's more images on my website in the helifotos gallery.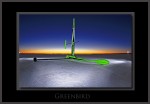 Tags:
canon
,
flash
,
greenbird
,
kalgoorlie
,
lake lefroy
,
popular science magazine
,
western australia